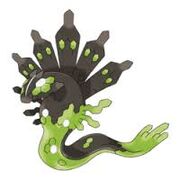 Order is my purpose. To that end, I shall assist you.
Zygarde
Class: Bruiser
Health: 3/5
Stamina: 3/5
Attack: 2/5
Defense: 4/5
Accuracy: 3/5
Evasion: 2/5
Team-Up Bonuses
Pokemon
Legendary
Life and Death
Passives:
Ground Type

​Takes reduced damage from Poison, Biofeedback, and Nanoplague

Aura Break

​Enemy attacks with Finest Hour! deal reduced damage if the attacker has Strengthened, Fortified, Agile, or  Focused
Enemy attacks with Paragon Exploiter deal reduced damage if the target has Weakened, Exposed, Slowed, or Dizzy
Moves:
Bulldoze (Ground) - All enemies, 5 hits

​Hobbled
Slowed

Dragon Pulse (Ranged Energy) - Single target, 1 hit

True Strike
Fumbling

Land's Wrath (Ground Energy) - All enemies,  13 hits. 1 round cooldown

​Power of the Earth

Can hit Flying targets

Catastrophic
Exploits Flying

Draco Meteor (Ranged) - Single target, 1 hit. 2 round cooldown

​Catastrophic​
High Crits
Deadly Crits
Causes Weakened and Impaired on Zygarde
Ad blocker interference detected!
Wikia is a free-to-use site that makes money from advertising. We have a modified experience for viewers using ad blockers

Wikia is not accessible if you've made further modifications. Remove the custom ad blocker rule(s) and the page will load as expected.