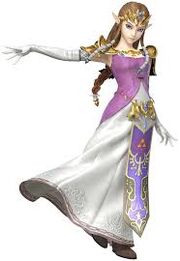 "Hyrule lends its strength to you, as do I. Let us vanquish these villains!"
Zelda
Class: Tactician
Health: 3/5
Stamina:  3/5
Attack: 3/5
Defense: 3/5
Accuracy: 3/5
Evasion: 2/5
Team-Up Bonuses:
Hylian Hero
Sovereign
Smasher
Arcane Arts
Portable
Passives:
Moves:
Din's Fire (Fire Magic Ranged) - Single target, 1 hit.

​Burning
Combustible
Splash Damage

Applies Melt Armor

Opportunist

Naryu's Love (Magic Buff) - Self.

Diamond Shield (1 Round)

Absorbs all attacks
50% chance to reflect Ranged attacks
Damages Melee attackers

Farore's Wind (Magic Melee) - Single target, 1 hit.

​Stealthy
Exploit Opportunity
Pressure Points

Light Arrow (Magic Ranged) (1 Round Cooldown) - Single target, 1 hit.

​Incapacitation
Deadly Crits
Exploit Opportunity
Paragon Exploiter
Ad blocker interference detected!
Wikia is a free-to-use site that makes money from advertising. We have a modified experience for viewers using ad blockers

Wikia is not accessible if you've made further modifications. Remove the custom ad blocker rule(s) and the page will load as expected.