As originally posted the 08/02/2014
Welcome to another one of my fanwork creations, today featuring Wiccan!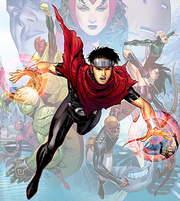 Classic Wiccan
Class: Blaster
Base Stats:
Health:           
Stamina:        
Attack:           
Defense:       
Accuracy:      
Evasion:        
Passives:
Flying
Masterful Mage

​Immune to Magic attacks and harmful Magic effects
Attacks against targets with Bane have a 65% chance to apply Soulfire, Dark Void and Deathfrost and are guaranteed to hit and crit
Chance to counter Magic attacks against any ally

Electrokinetic

​Chance to take reduced damage from Electric attacks

Reality Warping
L1 Ability - Lightning (Ranged Energy Electric) - One Enemy, One Hit, No Cooldown
Static Charge
Charged Attack
Guaranteed Crit
L2 Ability - Baneful Spell (Ranged Magic Energy) - One Enemy, One Hit, No Cooldown
Bane
Chaos Shot
Deadly Crits
Rising Up
L6 Ability - Spell of Healing (Buff Heal) - All Allies, n/a, 4 Rounds Cooldown
Quick Action
Healing Boost (2 Rounds)

Heals HP every turn and after attacking
Removes and prevents debuffs while active
L9 Ability - Magical Assault (n/a) - n/a, n/a, n/a
L9A - Flames of Hell (Ranged Fire) - Four Hits, One Enemy, 2 Rounds Cooldown
Burning
Pyrophoric
Melt Armor
L9B - Astral Projection (Melee Magic) - One Hit, All Enemies, 2 Rounds Cooldown
Deadly Crits
Mirror Images (grants to all allies)
L9C - Construct Field (Buff Magic) - One Ally, n/a, 3 rounds Cooldown
Subtle
Magical Shield (1 Round)

Shield effect absorbs incoming damage
Heals the target when expired or consumed
Chance to get an extra turn after being attacked by Magic attacks
L9D - Magic Meltdown (Ranged Magic) - All Enemies, One Hit, 3 Rounds Cooldown
Catastrophic
Finest Hour!
Exploit Attrition
High Crits
Ad blocker interference detected!
Wikia is a free-to-use site that makes money from advertising. We have a modified experience for viewers using ad blockers

Wikia is not accessible if you've made further modifications. Remove the custom ad blocker rule(s) and the page will load as expected.