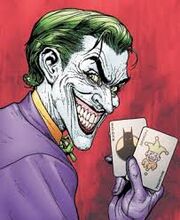 "Sowing chaos with government assistance! This is almost as good as beating on Bats! I'm in!"
The Joker
Class: Infiltrator (Default)
Health: 4/5
Stamina:  3/5
Attack: 3/5
Defense: 2/5
Accuracy: 2/5
Evasion: 3/5
Team-Up Bonuses:
Passives:
Under the Hood

​Takes reduced damage from damage over time effects

Toxin Immunity

​Immune to Poison, Nanoplague, and Biofeedback..

Cheating Death

​Chance to return to 10% health after being KO'd

Completely Insanse

Resistant to Psychic attacks​
Changes class and passives every turn.

Bruiser - Gains Black Mirror

​Causes Depower on an enemy before being attacked

Scrapper - Gains Salvation Run

​50% chance to remove a debuff every turn

Infiltrator - Gains Under the Hood
Tactician - Gains Hush

​All attacks are stealthy

Blaster - Gains Emperor Joker

​Counters all attacks with Wanna Play Some Cards?

May not use the selected attack on the selected enemy
Moves:
Wanna Play Some Cards? (Ranged Slashing) - All enemies, 2 hits.

​Bleeding
Pressure Points

The Last Laugh (Gun Ranged)  - Single target, 2 hits.

​Intimidated
Opportunist

The Clown at Midnight (Electric Melee) - Single target, 1 hit.

​Generalized
Stun (50%)
Mental Anguish

The Killing Joke (Bio Ranged) (2 Round Cooldown; Starts Cooled Down) - All enemies, 1 hit.

Bio Attack
​Chaos Shot
Joker Venom (3 Rounds) - Causes minor damage when removed

Round One: A Little Woozy - Applies Cower, Migraine, and Disadvantage
Round Two: Complete Infection - Applies Disoriented, Broken Will, and Despair
Round Three: Fatal Toxin -

KO's all standard enemies
Reduces players to 5% health
Reduces bosses to 20% health
Ad blocker interference detected!
Wikia is a free-to-use site that makes money from advertising. We have a modified experience for viewers using ad blockers

Wikia is not accessible if you've made further modifications. Remove the custom ad blocker rule(s) and the page will load as expected.