As first appeared on the M:AA Wikia with the name "Fanmade Fakeness: Slapstick", December 29, 2013

Slapstick is one of the very few characters to come out of of the 90's that isn't dark, gritty, or a trigger-happy anti-hero. This version of him will be based on his early appearances (not his lackluster modern one).
In case you don't know who Slapstick is click here.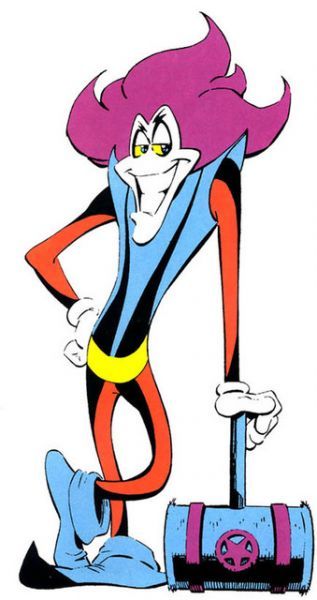 Class: Generalist
Health: 4/5
Stamina: 3/5
Attack: 2/5
Defense: 4/5 
Accuracy: 3/5
Evasion: 3/5

Passives
​            
   Returns to 50% health once when HP is reduced to 0. Can only trigger once per battle.
   When hit with electric attacks, ignores damage and gains Strengthened, Fortified, Agile and                                             Focused.
Just Needs to be Shaken Off
​                 All Damage Over Time effects lasts one round.
     Takes reduced damage from explosive attacks.
​                When an ally gets attacked, has a chance to apply Joke's on You (2 Rounds, Has a chance to be pre-countered with Classic Pie to the Face when attacking).
L1. Hammer Time (Melee) - Slapstick grabs a giant hammer from his pocket and slams it on a enemy.   One hit, single attack.
This attack does extra damage if it was a counter-attack, follow-up attack, or ignored defense. 
L2. The Great and All Mighty Squirting Flower (Water Ranged, All Enemies) - Slapstick pulls out what looks like a innocent water flower gag, but instead contains a highly pressurized water jet and attacks all enemies with it. Five hits. Cooldown 2 Rounds.
​               Has a chance to cause Flanked, Fumbling, or Melt Armor.
 Deals damage every turn while increasing damage each round.
 Cancelled by Burning.
L6. Pain in a Box (Ranged) - Slapstick grabs a jack-in-the-box from his pocket and cranks it until a boxing glove (which feels like a brick) springs out on a enemy. One hit, single attack. ​
              Will either apply Wide-Open or Lock-On (applies one of these two debuffs)
​              Attacks will be unable to use exploiting effects.
L9. Dynamite Blast (Explosive Ranged , All Enemies) - Slapstick goes behind enemies to place a handful of dynamite quietly, lights it up, and waits for it to explode. One hit. Cooldown 2 Rounds.
Stealthy
Hobbled
High Crits
Opportunist
 Practical Jokester Counter-Attack. Classic Pie to the Face (Ranged) - Slapstick throws a delicious whipped cream pie at a enemy. One hit, single attack. Extremely low base damage.
They're Randomly Delicious!
​             Causes random debuffs.
So that's my moveset for Slapstick. In the comments below tell me your opinion about him (I may have made him a little too OP).
Also, some humorous panels featuring Slapstick,
Ad blocker interference detected!
Wikia is a free-to-use site that makes money from advertising. We have a modified experience for viewers using ad blockers

Wikia is not accessible if you've made further modifications. Remove the custom ad blocker rule(s) and the page will load as expected.