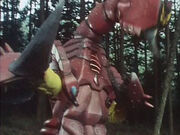 Bio
Sasori Monster is the fourth BEM Kaiju in Space Sheriff Gavan. Its powers include a mouth stinger that dissolves victims, fast burrowing, a double sided triangular dagger, explosive eye energy bolts, telekinesis, and invisibility.
Class: Infiltrator
Gains Combat Reflexes when attacking or attacked by Tacticians. Counters attacks and attacks become Stealthy.
Passive
Relentless
Attacks
Optic Blast
Ranged Energy Explosion
One Enemy
(special) Deadly Crits - deals extra damage on critical hits
(enemy) Burning - takes damage each turn. Defense reduced.
(self) Focused - attack increased by 25%
Cloak
Buff
Self
(self) Cloaked - 70% chance to avoid single-target attacks
Telekinesis
Ranged
One Enemy
(enemy) Dizzy - accuracy reduced by 25%
(enemy) Weakened - attack reduced by 25%
(enemy) Hobbled - attacks cannot be Stealthy
Dagger
Slashing Melee
One Enemy
(enemy) Tenderized - takes extra damage from slashing attacks
(enemy) Pain - increases damage taken
(self) Honed Edge - next attack is guaranteed to crit
Melting Stinger
Ranged Bio
One Enemy
(enemy) Melt Armor - all attacks against this target ignore the defense stat
(enemy) Shield Breaker - removes and prevents shields
(enemy) Poisoned - takes damage each turn. Attack reduced.
Ad blocker interference detected!
Wikia is a free-to-use site that makes money from advertising. We have a modified experience for viewers using ad blockers

Wikia is not accessible if you've made further modifications. Remove the custom ad blocker rule(s) and the page will load as expected.