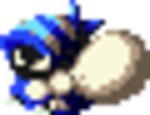 Bio
Sackits are hooded enemies in Super Mario RPG: Legend of the Seven Stars. They are a stronger relative to Crooks. They are found in Star Hill, where they fight alongside Mukumukus and Geckos.
Class
Sackits can either be Infiltrators or Scrappers.
Attacks
Punch
Unarmed Melee
4 hits
One Enemy
(enemy) Combo Setup - next unarmed attack against this target does extra damage
Bomb Throw
Ranged Explosion
One Enemy
(enemy) Burning - takes fire damage each turn. Defense reduced.
(enemy) Exposed - defense decreased by 25%.
Grab Bag
Ranged
One Enemy
(special) random objects - causes random debuffs.
Ad blocker interference detected!
Wikia is a free-to-use site that makes money from advertising. We have a modified experience for viewers using ad blockers

Wikia is not accessible if you've made further modifications. Remove the custom ad blocker rule(s) and the page will load as expected.