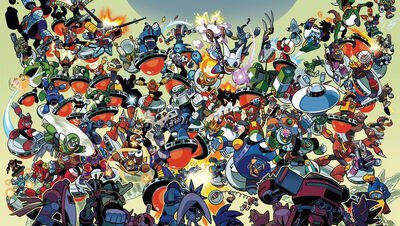 (under construction)
Chapter Briefing
"After you had your fun with the ponies and their enemies, Russcorn takes you to another M: AA clone known as Mega Man: Robot Master Alliance. There, you tell Mega Man that you're from the Marvel universe and it's being overwhelmed by mysterious invaders. That rings a bell to him, as he fights in Marvel vs Capcom. Joining your team with his Mega Buster, he lets you know that the canon Robot Masters are the good guys in this game and you fight Power Rangers-style ones."
Mission 1: In Hot Water
"What's with the waters in this place?!? They've been boiled and poisoned! Freeze Man rides with you here."
Enemies: Sekil, Lava Bubble, Octolot, Magma Cube and Slime/Blazikenisawsome
Minibosses: Bin Banki, Super Blooper, Shower Banki
Team-Up: Freeze Man
Boss: Kegareshia
Team-Up: Mega Man
Deploys: SpongeBob, Glacius, Elsa, Aquaman, 1 Blaster
Mission 2
Mission 3
Mission 4
Mission 5
Premium Mission
Ad blocker interference detected!
Wikia is a free-to-use site that makes money from advertising. We have a modified experience for viewers using ad blockers

Wikia is not accessible if you've made further modifications. Remove the custom ad blocker rule(s) and the page will load as expected.