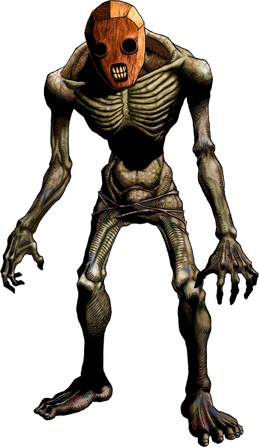 Bio
ReDeads are zombie-like monsters similar to Gibdos that debuted in Ocarina of Time. While their appearance may change from game to game, their behavior has remained relatively the same - namely their tactic of freezing targets in their tracks with a petrifying scream.
Class
Can either be a Bruiser, Scrapper, or Infiltrator.
Passive
Mindless - immune to Psychic and Fear attacks
Attacks
Screech
Sonic Ranged
One Enemy
(enemy) Scare em Straight - causes either Intimidated, Cower, or Broken Will.
Pummel
Unarmed Melee
One enemy

Bite
Melee
One enemy
(enemy) Bleeding - takes damage each turn and when attacking
(enemy) Ravaged - takes increased damage from bleeding
Ad blocker interference detected!
Wikia is a free-to-use site that makes money from advertising. We have a modified experience for viewers using ad blockers

Wikia is not accessible if you've made further modifications. Remove the custom ad blocker rule(s) and the page will load as expected.