As first appeared on the M:AA Wikia with the name "Fanmade Fakeness: Professor X", April 27, 2013

This time around I am created a moveset for a really well know character in the Marvel universe, Professor X. What I did was making him have low damage, but also making him into an excellent support and debuff character.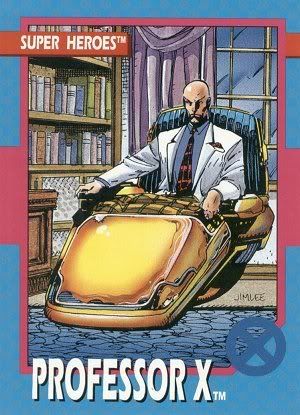 Class: Tactician
Health: 3/5
Stamina: 4/5
Attack: 2/5
Defense: 3/5 
Accuracy: 4/5
Evasion: 2/5
Passives
World's Strongest Telepath
​                Chance to give himself or his allies a random buff at each round telepathically. Can only activate                       once per ally per round.
        If Professor X is attacking a enemy has mind read and two other psychic related debuffs he                             will cause Offensive Mental Lock (prevents the enemy to do offensive actions for 1 round).
L1. Mental Blast (Ranged Energy) - Professor X blasts an enemy with his mind. One hit, single attack.
Psychic Energy Attack
Mind Control
Migraine
L2. Cleanse of the Mind (Buff, All Allies) - Professor X gives buffs to himself and his allies telepathically. Cooldown 2 rounds.
Quick Action
Mental Resilience
Deep Thought
Buildup
Energize
​​L6. Psionic Projection (Ranged Energy, All Enemies) -  Professor X creates a painful projection with his mind to all enemies. Three hits.
Psychic Energy Attack
Psychic Lock
Expliots Migraine
Weak Mind
L9 . Mind Devastation (Ranged Energy) - Professor X sends a large and deadly blast from his mind to a enemy. One hit, single attack. Cooldown 2 rounds.
Psychic Energy Attack
Mental Anguish
Exploits Weak Mind
Mental Breakdown (2 Rounds)
​                 Decreases all stats by 40%
​               Professor X will avoid the next single target attack from this enemy.
List of possible buffs from World's Strongest Telepath passive:
Strengthened
Potential Unleashed
Predictive Shielding
Focused
Mental Coordination
Recuperation 

So that's my moveset for Professor X. In the comments below tell me your opinion about him (I may have made him a little too OP).
Ad blocker interference detected!
Wikia is a free-to-use site that makes money from advertising. We have a modified experience for viewers using ad blockers

Wikia is not accessible if you've made further modifications. Remove the custom ad blocker rule(s) and the page will load as expected.