As originally posted by Leojsaad the 11/03/2014
Welcome to my newest fanwork, featuring Polaris!
Classic Polaris
Class: Blaster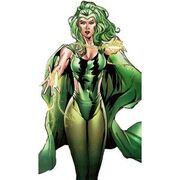 Base Stats:
Health:           
Stamina:        
Attack:           
Defense:       
Accuracy:      
Evasion:        
Passives:
Mistress of Magnetism

​Applies Magnetized to all enemies at the beginning of combat
Attacks against Magnetized targets are guaranteed to crit
Chance to counter attacks from Magnetized targets

Flying
Magnetic Protection

​Chance to spawn a shield around an ally before that ally is attacked
This shield makes the ally immune to Magnetized and  Exhausted and lasts for 2 rounds

Absorbing Energy

​Chance to gain an Extra Turn when hit by Energy attacks
Reduces damage taken from Energy attacks by 70%
L1 Ability - Magnetic Blast (Ranged Energy) - , One Hit, No Cooldown
Special Properties
One Enemy
Magnetized
Incapacitation
L2 Ability - Electromagnetic Repulsion (Buff) - , 100% chance, 4 Rounds Cooldown
Special Properties
All Allies
Magnetic Repellent (2 Rounds)

Dodging all attacks except Magic and Psychic
Unable to perform Melee abilities
Removed by Magnetized
L6 Ability - Pyshics Rock (Ranged) - , One Hit, 2 Rounds Cooldown
Special Properties
Deadly Crits
Exploits Stun
Exploits Magnetism
One Enemy
L9 Ability - Debris Throw (Ranged) - , One Hit, No Cooldown
All Allies
One Enemy
Collapsing Infrastructure
Well, that's pretty much it for this fanwork, post your thoughts about this in the comments! Thanks for reading!
Ad blocker interference detected!
Wikia is a free-to-use site that makes money from advertising. We have a modified experience for viewers using ad blockers

Wikia is not accessible if you've made further modifications. Remove the custom ad blocker rule(s) and the page will load as expected.