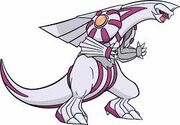 The god of space deigns to help you defend his world. That is all.
Palkia
Class: Blaster
Health: 2/5
Stamina: 3/5
Attack: 4/5
Defense: 4/5
Accuracy:  4/5
Evasion: 3/5
Team-Up Bonuses:
Pokemon 
Legendary
Time and Space
Passives:
Pressure

​Attacks against Palkia use extra stamina

Master of Space

​30% chance to avoid enemy attacks
Moves:
Water Pulse (Ranged Water Energy) - Single target, 1 hit

​Disoriented (75%)
Dizzy

Dragon Claw (Melee Slashing) - Single target, 2 hits

​Deadly Crits

Hydro Pump (Ranged Water) - Single target, 5 hits

​Wild Shots
Deadly Crits
Waterlogged

Spacial Rend (Ranged) - All enemies, 1 hit

​Catastrophic
Where am I?

30% chance to remove an enemy from combat completely
Does not work on players or bosses

Paragon Exploiter
Ad blocker interference detected!
Wikia is a free-to-use site that makes money from advertising. We have a modified experience for viewers using ad blockers

Wikia is not accessible if you've made further modifications. Remove the custom ad blocker rule(s) and the page will load as expected.