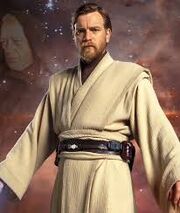 "Let's not get hasty. There is no passion, remember?"
Obi-Wan Kenobi
Class: Tactician
Health: 3/5
Stamina: 4/5
Attack: 3/5
Defense: 4/5
Accuracy: 3/5
Evasion: 4/5
Team-Up Bonuses:
Master and Apprentice
Jedi
Passives:
Soresu Form

​30% chance to avoid melee attacks and cause Fumbling on attacker

Born Diplomat

​Immune to fear effects
Immune to psychic debuffs

Lightsaber Prowess

​10% chance to avoid ranged attacks
Moves:
As the Council Wishes (Melee Energy Slashing) - Single target, 2 hits

​Ignore Defense
Hobbled
Finest Hour!

I Will Train the Boy (Buff) (Cooldown: 1 round)

​Quick Action
Rising Up
The Jedi Way

Removes one debuff from all allies
Restores stamina
Reduces damage taken from Damage Over Time effects

Lightsaber Throw (Ranged Energy Slashing) - All enemies, 2 hits.

Ignore Defense
Circular Strike
Off-Balance (75%)

Force Push (Ranged Kinetic) (Cooldown: 2 rounds) - All enemies, 1 hit.

​Force Power

Ignores protect, counter, avoidance, and phased effects

Exploit Opportunity
Stun (30%)
Wide-Open
Ad blocker interference detected!
Wikia is a free-to-use site that makes money from advertising. We have a modified experience for viewers using ad blockers

Wikia is not accessible if you've made further modifications. Remove the custom ad blocker rule(s) and the page will load as expected.