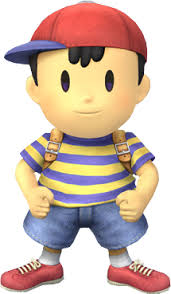 "Okay, I'm in. I love adventures!"
Ness
Class: Blaster
Health: 3/5
Stamina: 3/5
Attack: 4/5
Defense: 3/5
Accuracy: 2/5
Evasion: 3/5
Team-Up Bonuses:
Passives:
Moves:
PK Flash (Ranged Psychic Energy Explosive) - All enemies, 1 hit

​Disoriented (50%)
Blinded (50%)
Energy Release

Removes all stacks of Absorbed Energy to deal increased damage.

PK Fire (Ranged Psychic Energy Fire) - Single target, 5 hits

​Burning
Fire Vortex

Stuns burning enemies.

PK Thunder (Ranged Psychic Energy Electric) - Single target, 1 hit.

Circular Strike
Static Charge
Charged Attack​

PSI Magnet (Self-Buff) - 2 round cooldown

​Absorb Energy

Healed by energy attacks
Gains a charge of Absorbed Energy for every energy attack absorbed

Absorbed Energy

Increases damage dealt by 2%
Stacks infinitely.

Lasts 5 rounds
Ad blocker interference detected!
Wikia is a free-to-use site that makes money from advertising. We have a modified experience for viewers using ad blockers

Wikia is not accessible if you've made further modifications. Remove the custom ad blocker rule(s) and the page will load as expected.