Bio
Metools are common enemies from the Megaman franchise.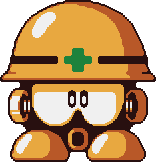 Class: Generalist
Passives
Mechanical body - immune to Bleeding, Poison, and Bio attacks, but can get the Fried Circuits debuff
Blocking - chance to block attacks, taking reduced damage
Attacks
Helmet guard
Buff self
becomes immune to damage for one round
Shot
Ranged
Hits One Enemy
Ad blocker interference detected!
Wikia is a free-to-use site that makes money from advertising. We have a modified experience for viewers using ad blockers

Wikia is not accessible if you've made further modifications. Remove the custom ad blocker rule(s) and the page will load as expected.