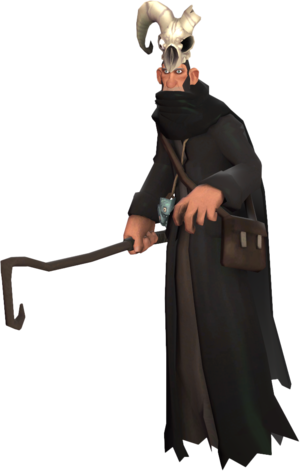 Bio
Merasmus the Magician is a Scottish wizard. He is six thousand years old, keeper of the Bombinomicon (A forbidden magic tome capable of summoning... bombs) and was the Soldier's former roommate.
Class:Blaster

Merasmus' attacks against Bruisers are critical and ignore defense.
Tacticians' attacks against Merasmus grant them an extra turn.
Appearance
Merasmus is fought as an Epic Boss in Special Operations - Mann vs Machine.
Heroes required (for deploys): The Heavy/LordRemiem, Sergeant Calhoun/TWG and Queen Chrysalis/russgamemaster
Stats
Health: 4/5
Stamina: 3/5
Attack: 4/5
Defense: 3/5
Accuracy: 4/5
Evasion: 2/5
Passives
Relentless

Immune to Stun, Exhausted, Cower and preemptive effects

Teleport

20% chance to avoid attacks by teleporting

Wheel of Fate

Gets a random buff at every round (Strengthened, Fortified, Focused or Agile)
Enemies have a 50% chance to gain their Disadvantage debuff at the beginning of their turn

Generalist: Intimidated (Reduces Attack, Accuracy and Evasion)
Infiltrator: Off-balance (Removes and prevents Counter effects)
Scrapper: Winded (Removes and prevents Follow-up effects)
Bruiser: Neutralized (Removes and prevents stat-increasing effects)
Blaster: Impaired (Attacks deal 20% less damage and cannot crit)
Tactician: Exhausted (Cannot take extra turns)
Abilities
Staff strike

Type: Melee
Target: One enemy
One enemy: Staggered (Cannot dodge attacks; Attacks against this target ignore Avoidance effects)
One enemy: Bane (Takes extra damage from Magic attacks)

Forbidden Spell

Type: Magic, Energy, Ranged
Target: One enemy
Cooldown: 1 Round (1 Round initial cooldown)
One enemy: Chaos Shot (Deals random Damage-over-Time debuffs)
One enemy: Side Effects (Deals random debuffs)

Feel the Terror!

Type: Magic, Psychic
Target: All enemies
Cooldown: 2 Rounds
Special: Psychic Energy Attack (Deals energy damage against targets immune to Psychic attacks)
All enemies: Intimidated (Reduces Attack, Accuracy and Evasion)
All enemies: Broken Will (Next attack deals 30% less damage)
All enemies: Cower (60% chance) (20% chance to lose a turn)

Recovering Magic

Type: Buff, Heal
Target: Self
Cooldown: 3 Rounds
Self: Regenerative Spell

Shield effect absorbing incoming damage
Greatly restores health over time while active
Merasmus cannot act while Regenerative Spell is active

BOMBINOMICON!

Type: Magic, Explosion, Ranged
Target: All enemies
Cooldown: 3 Rounds (4 Rounds initial cooldown)
Special: Catastrophic (Ignores Protection and Avoidance effects; Always hits)
Special: Exploit Attrition (Deals extra damage against targets with Damage-over-Time debuffs)
Special: Ignore Defense (Ignores target's Defense and Shield effects)
Special: You cannot escape! (Instantly triggers all Damage-over-Time debuffs)
Self: Bombinomicon

Shield effect absorbing incoming damage
Unleashes a devastating attack on the next round if not removed
Cannot be removed by Buff removal effects
Merasmus loses a whole round when the attack is performed
Note: Regenerative Spell lasts indefinitely until removed.
Themed Weapons
Merasmus has a themed weapon, The Bombinomicon.
Ad blocker interference detected!
Wikia is a free-to-use site that makes money from advertising. We have a modified experience for viewers using ad blockers

Wikia is not accessible if you've made further modifications. Remove the custom ad blocker rule(s) and the page will load as expected.