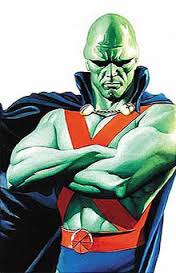 "Let us stop Earth from becoming the second Red Planet."
Martian Manhunter
Class: Infiltrator
Health: 2/5
Stamina: 4/5
Attack: 3/5
Defense: 3/5
Accuracy: 5/5
Evasion: 5/5
Team-Up Bonuses:
Far, Far Away
Untouchable
Justice League
Mind Games
It's Not Easy Being Green
Passives:
Martian Physiology

Vulnerable to fire attacks

Mental Resilience
Flying
Calming Influence

​Allied Justice League members are resistant to psychic attacks and debuffs
Moves:
Level 1 - Phased Fists (Unarmed Melee) - Single target, 2 hits.

Combo Setup
Phased

Level 2 - Mental Blast (Psychic) - Single target, 1 hit.

Migraine
Applies Mental Anguish to targets with Migraine
Does not remove Phased

Level 6 - Shapeshift (Buff) (2 Round Cooldown)

​Shapeshift

Manhunter shifts into the form of an enemy and randomly uses one of its moves.

Level 9 - Red Planet (Melee Unarmed)

Phased Advantage
Exploits Combos
Catastrophic
Ad blocker interference detected!
Wikia is a free-to-use site that makes money from advertising. We have a modified experience for viewers using ad blockers

Wikia is not accessible if you've made further modifications. Remove the custom ad blocker rule(s) and the page will load as expected.