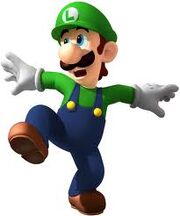 "Weegee time!"
Luigi
Class: Infiltrator
Health: 3/5
Stamina: 3/5
Attack: 3/5
Defense: 2/5
Accuracy: 3/5
Evasion: 4/5
Team-Up Bonuses:
Passives:
Younger Brother

​All allies attacks gain Rising Up

Apparent Cowardice

​20% chance to cower away from an enemy attack
Replaced with Inner Bravery after triggering

Inner Bravery

​All Luigi's attacks gain Finest Hour!
Replaced with Apparent Cowardice after attacking
Moves:
​Super Jump Punch (Melee Unarmed) - Single target,  1 hit.

​Combo Setup
Paragon  Exploiter

'Plasma Ball (Ranged Fire Electric)' - Single target,  1 hit.

​Incapacitation
Exploit Attrition

'Poltergust 3000 (Ranged) - All enemies',  1 hit.

Off-Balance
Exploit Opportunity

'Negative Zone (Ranged Magic) (2 Round Cooldown/Starts Cooled Down)' - All enemies, 5 hits.

​Pressure Points (50%)
Chaos Shot (50%)
Opportunist (50%)
Cursed Mirror (50%)
Ad blocker interference detected!
Wikia is a free-to-use site that makes money from advertising. We have a modified experience for viewers using ad blockers

Wikia is not accessible if you've made further modifications. Remove the custom ad blocker rule(s) and the page will load as expected.