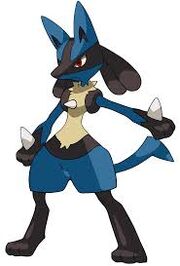 "Let those who would exploit fear feel the power of Aura!"
Lucario
Class: Scrapper
Health: 3/5
Stamina: 4/5
Attack: 3/5
Defense: 3/5
Accuracy: 5/5
Evasion: 3/5
Team-Up Bonuses:
Passives:
Aura Driven

​Attacks almost never miss
Immune to fear effects
Attack increases as health decreases
Moves:
Aura Sphere (Ranged Energy) - Single target, 1 hit.

​Ethereal Strike
Exposed
Deadly Crits

Bone Rush (Melee) - Single target, 3 hits.

​Pummeled
Slowed
Follow-Up (50% Chance)

Counter (Buff) (3 Round Cooldown)

Quick Action
Counters all melee attacks with Force Palm

Force Palm (Melee Unarmed)

Pain

Lasts 2 Rounds

ExtremeSpeed (Melee Unarmed) - Single Target, 1 hit

​Increased Priority

Ignores protect, counter, and avoidance effects

Agile
Strengthened
Ad blocker interference detected!
Wikia is a free-to-use site that makes money from advertising. We have a modified experience for viewers using ad blockers

Wikia is not accessible if you've made further modifications. Remove the custom ad blocker rule(s) and the page will load as expected.