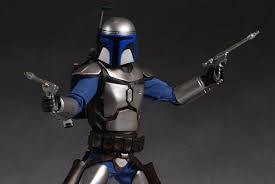 "For the right price, I'll bring you anyone's head."
Jango Fett
Class: Infiltrator
Health: 3/5
Stamina: 3/5
Attack: 3/5
Defense: 3/5
Accuracy: 4/5
Evasion: 4/5
Team-Up Bonuses:
Far, Far Away
Fully Loaded
Big Guns
In it for the Money
Aviary
Safety First
Tin Men
Passives:
Merr-Son Jetpack

​Immune to ground attacks
25% chance to dodge ranged attacks

Mandalorian Battle Armor

​Reduces non-energy and non-magic damage taken by  10%
Immune to bleeding

Galactic Bounty Hunter

Restores stamina and gains an extra turn after defeating an enemy
Moves: 
Dual Westar-34s (Gun Energy Ranged) - Single target, 2 hits.
MM9 Concussion Rocket (Explosion Ranged) - Single target, 1 hit.

​Combustible
Shell-Shocked
True Strike
Exposed

Czerka ZX Flamethrower (Fire Energy Ranged) - All enemies, 3 hits.

​Burning
Melt Armor
Weakened

Aerial Assault (Gun Energy Ranged) - Single target, 1 hit.

​Opportunist
Pressure Points
Stealthy
Ad blocker interference detected!
Wikia is a free-to-use site that makes money from advertising. We have a modified experience for viewers using ad blockers

Wikia is not accessible if you've made further modifications. Remove the custom ad blocker rule(s) and the page will load as expected.