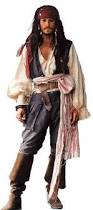 Bio: Jack Sparrow was a legendary pirate of the Seven Seas, and the irreverent trickster of the Caribbean. A captain of equally dubious morality and sobriety, a master of self-promotion and self-interest, Jack fought a constant and losing battle with his own best tendencies. Jack's first love was the sea, his second, his beloved ship the Black Pearl.
Character Info
Name: Jack Sparrow
Outfit: Classic Jack Sparrow
Class: Infiltrator
Stats: hp 4/5, stam 4/5, att 3/5, def 2/5, acc 2/5, evas 3/5
Passive 1: Opportunist
Passive 2: He's a Pirate - Chance to remove buffs on attacker before attack.
Moves
1. Savvy? - Single Enemy - Gun, Ranged
Debuffs: Target Focus, Weakened

2. En Garde! - Team - Buff
Buffs: Rising Up, Build-Up

3. Single-Shot Flintlock - Single Enemy - Gun, Ranged
Abilites: Brutal Strike, Boon Buster
Debuffs: Fatal Blow

4. Curse of the Black Pearl - AoE - N/A
Debuffs: Shell Shocked, Cower, Opportunist
Team-Up Bonuses
Alias-less
Average Joes
Antihero
Big Mouth
Birds of a Feather
Fashionistas - His Hat is his most prized possession
Fully Armed
Kleptomaniac
Red in the Ledger
You have my Sword
Ad blocker interference detected!
Wikia is a free-to-use site that makes money from advertising. We have a modified experience for viewers using ad blockers

Wikia is not accessible if you've made further modifications. Remove the custom ad blocker rule(s) and the page will load as expected.