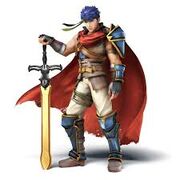 "Ragnell and the Greil Mercenaries are with you, Agent."
Ike
Class: Bruiser
Health: 4/5
Stamina: 3/5
Attack: 5/5
Defense: 4/5
Accuracy: 2/5
Evasion: 2/5
Team-Up Bonuses:
Smashers
You Have My Sword
Passives:
Greil Mercenary

Reduces damage taken by 3% for every buff on Ike

Heavy Handed

​All attacks Exploit Shields
Moves:
On My Honor (Unarmed Slashing Melee) - Single target, 3 hits.

​Wide-Open
Strengthened
Fortified

Counter (Buff) - Self

Counter

Blocks next attack
Counters Melee attacks

Applies Pain

Fortified

Ragnell (Slashing Melee) - Single target, 1 hit.

Shield Breaker
Incapacitation
Tenderized
High Crits
Agile

Aether ( Slashing Melee) (2 Round Cooldown) - Single target, 8 hits.

Exploits Flying
Exploit Tenderized
Finest Hour!
Deadly Crits
Ad blocker interference detected!
Wikia is a free-to-use site that makes money from advertising. We have a modified experience for viewers using ad blockers

Wikia is not accessible if you've made further modifications. Remove the custom ad blocker rule(s) and the page will load as expected.