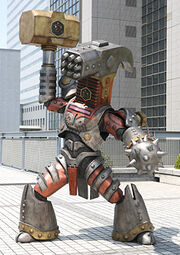 Bio
A hammer Savage Land Barbaric Machine Beast created by Yogostein when he returned from his travel. Being infused with his creator's hate, Hammer Banki is compelled to destroy everything even to the point of disobeying Yogostein. Hammer Banki was the first to battle the completed Go-Roader. He was destroyed by the combined efforts of Engine-Oh G9 and Go-Roader.
Class: Bruiser
Vulnerable to critical hits by Blasters.
Passives
Mechanical Body
Relentless
Furious - becomes enraged when attacking anypony, not just Scrappers.
Attacks
Overhead
Melee
One Enemy
(special) Deadly Crits - deals extra damage on critical hits
(special) Exploit Opportunity - deals extra damage to enemies with Impaired, Staggered, Cornered, Neutralized, Winded, Off-Balance, or Exhausted.
Quaker
Ground
All Enemies
(special) Ground Attack - ignores avoidance and protect effects
(enemy) Slowed - evasion decreased by 25%
(enemy) Off-Balance - cannot counter attacks
Shatterwave
Sonic Ranged
All Enemies
(Special) Catastrophic - always hits and cannot be protected against
(enemy) Resonating - removes buffs and prevents the next one applied
(Enemy) Cornered - cannot protect allies
(enemy) Shield Breaker - removes and prevents shields
Roundhouse
Melee
All Enemies
(enemy) Subdue - melee attacks do 40% less damage and cannot crit
(enemy) Exhausted - cannot take extra turns. Quick Actions become normal actions.
Spike Ball
Ranged
One Enemy
(enemy) Winded - cannot perform follow-up attacks
(enemy) Fumbling - single-target attacks provoke a counter-attack
Berserker Frenzy
Melee
3 hits
(special) Deadly Crits - deals extra damage on critical hits
(enemy) Wide-Open - takes extra damage from melee attacks
(enemy) Hobbled - attacks cannot be stealthy
Berserker State
Buff
Self
(special) Quick Action - does not consume a turn
(self) Berserker - chance to join in on an ally's single-target attack. Chance to retaliate when an ally is hit by single-target attacks.
Debris Skyfall
Ranged
All Enemies
(enemy) Heavy - flying enemies become vulnerable to ground attacks. Cannot dodge attacks.
Ad blocker interference detected!
Wikia is a free-to-use site that makes money from advertising. We have a modified experience for viewers using ad blockers

Wikia is not accessible if you've made further modifications. Remove the custom ad blocker rule(s) and the page will load as expected.