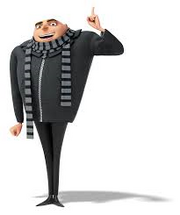 Bio: Felonius Gru, often referred to by his surname Gru, was a supervillain and jelly manufacturer, and is now a consultant for the Anti-Villain League. Formerly the world's greatest villain, Gru has been ousted by Vector, who had stolen the Pyramid of Giza and been bestowed the honor of pulling off the "crime of the century". In response, Gru unveils his plan for an even more impressive crime; the theft of the Moon. When his plans are interrupted by Vector, Gru becomes the adoptive father of three girls: Margo, Edith, and Agnes.
Character
Outfit: Original Gru
Class: Tactician
Passives:
1. Supervillain Training - All attacks can be either Single or Multi Target. Multi-Target takes extra stamina.
2. Dancer - Gains a bonus to evasion every turn. this effect cannot be removed and increases evasion by 10%. Stacks 5 times.
Attacks
1, Freeze Ray! - Ranged, Gun, Ice
Debuffs: Chilled, Immobilized
2. Flamethrower! - Ranged, Gun, Fire
Debuffs: Burning, Melt Armor
3. Rocket Launcher! - Ranged, Gun, Explosion
Debuffs: Combustible, Fatal Blow
4. Big Mega Blaster Gun!!! - Ranged, Gun, Energy
Abilities: Finest Hour, Boon Buster, Exploit Burning, Exploit Chilled
Team-Up Bonuses
Alias-Less
Average Joes
Big Guns
Eggheads
Fully Armed
Hot Stuff
Kleptomaniac
Red in the Ledger
Ad blocker interference detected!
Wikia is a free-to-use site that makes money from advertising. We have a modified experience for viewers using ad blockers

Wikia is not accessible if you've made further modifications. Remove the custom ad blocker rule(s) and the page will load as expected.