As originally posted by Leojsaad the 17/02/2014.
Welcome to another one of my fanwork creations today featuring Groot!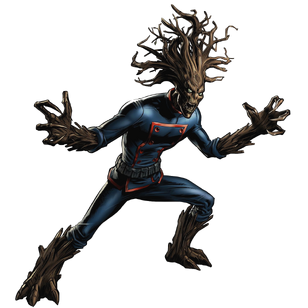 Classic Groot
Class: Bruiser
Base Stats:
Health:         
Stamina:       
Attack:          
Defense:      
Accuracy:     
Evasion:       
Passives:
Thick Bark

​Immune to Bleeding, Chilled, Poisoned and Radiation Exposure
Stats cannot be reduced

Nature's Sapling

​Groot is revived back to full health and clears all debuffs one round after he is KO'ed
This will not proc if the entire team has been defeated before Groot comes back
L1 Ability - Branch Trap (Melee) - All Enemies, One Hit, No Cooldown
L2 Ability - I Am Groot! (Melee) - One Enemy, One Hit, 2 Rounds Cooldown
Desperation Attack
Stealthy
Exploits Shields
Pummeled
Shield Breaker
L6 Ability - Tree Wall (Buff) - All Allies, n/a, 3 Rounds Cooldown
Quick Action
Tree Wall (2 Rounds)

Allies take no damage for the time this effect is active
Attackers have Constricted and Disoriented applied to them
Removed by Fire attacks
Once expired or consumed, any ally with this effect gains an HP boost
L9 Ability - Wood Punch (Melee Unarmed) - One  Enemy, One Hit, No Cooldown
Staggered
Neutralized
Impaired
Notes on character and moveset
Branch Trap: Groot uses several branches to attack all enemies.
I Am Groot!: Groot jumps high into the sky and merges down hitting the ground and an enemy (similar to Hulk's Hulk Smash!)
Tree Wall: Trees rise from the ground, making a wall that separates allies from enemies, and then they dissapear.
Wood Punch: Like in Hulk's Rage Punch, Groot simply punches the enemy.
Once Nature's Sapling procs, just a small tree sapling appears where Groot was. This is just decoration and can't attack or be attacked; doesn't appear in turn order list; Groot's name with HP, SP and buffs/debuffs  will only appear when he comes back.
Team-Up Bonuses
Eggheads: Heroes who are geniuses
Howling Commandos: Former or current members of S.H.I.E.L.D.'s Howling Commandos
| Icons | Names | Team-Up Bonus |
| --- | --- | --- |
| | Beast, Black Knight, Black Panther, Fixer, Hank Pym, Hulk, Iron Man, Magneto, Morbius, Mr. Fantastic, Spider-Man, Groot | Eggheads |
| | Daimon Hellstrom, Doctor Voodoo, Groot, Satana | Howling Commandos |
Note: Groot has no Team-Up Bonuses higher than 50 points.
Post your opinion about this fanwork in the comments! Thanks for reading!
Ad blocker interference detected!
Wikia is a free-to-use site that makes money from advertising. We have a modified experience for viewers using ad blockers

Wikia is not accessible if you've made further modifications. Remove the custom ad blocker rule(s) and the page will load as expected.