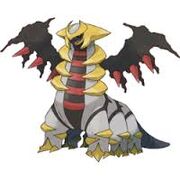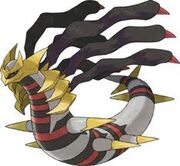 I wish to show those who fear me....that they are completely right.
Giratina
Class: Infiltrator
Health:  5/5-5/5
Stamina: 3/5-3/5
Attack: 3/5-4/5
Defense: 4/5-3/5
Accuracy: 3/5-3/5
Evasion: 2/5-2/5
Team-Up Bonuses:
Time and Space
Pokemon 
Legendary
Passives:
Pressure/Levitate

​Pressure: Attacks against Giratina use extra stamina
Levitate: Immune to ground attacks

Master of Antimatter

​30% chance to cause damage to enemies after being attacked
Moves:
Dragon Claw (Melee Slashing) - Single target, 4 hits.

​Ignore Defense
Shred

Forme Change (Buff) - 1 round cooldown

​Switches Giratina from Altered Forme to Origin Forme and vice versa
Quick Action

Ominous Wind/Hex

​Ominous Wind (Ranged Shadow)

Requires Altered Forme
Stealthy
Rising Up
Intimidated

Hex (Ranged Shadow)

Requires Origin Forme
Deals extra damage for every debuff on Giratina
Fumbling
Stealthy

Shadow Force (Melee Shadow) - All enemies, 2 hits. 2 round cooldown.

​Catastrophic
"Vanish Instantly"

Dodges all attacks for one turn
Hits on the next

Incapacitation (75%)
Ad blocker interference detected!
Wikia is a free-to-use site that makes money from advertising. We have a modified experience for viewers using ad blockers

Wikia is not accessible if you've made further modifications. Remove the custom ad blocker rule(s) and the page will load as expected.