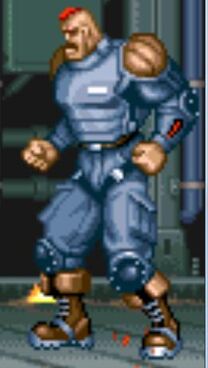 Bio
Gigant is the first boss of The Ninja Warriors Again. He reappears later as a normal enemy.
Class: Bruiser
Becomes Enraged when attacking or attacked by Scrappers, increasing all stats up to two times.
Passive
Relentless - immune to Stun, Cower, Exhaustion, and Prevention effects
Attacks
Punch
Unarmed Melee
One Enemy
(enemy) Fumbling -  single-target attacks provoke a counter-attack
Kick
Unarmed Melee
One Enemy
(enemy) Hobbled - attacks cannot be Stealthy
(enemy) Off-Balance - cannot counter attacks
Ad blocker interference detected!
Wikia is a free-to-use site that makes money from advertising. We have a modified experience for viewers using ad blockers

Wikia is not accessible if you've made further modifications. Remove the custom ad blocker rule(s) and the page will load as expected.