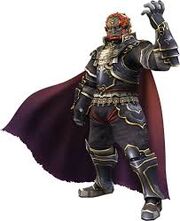 "I will save this world, if only to conquer it later."
Ganondorf
Class: Tactician/Bruiser
Health: 5/5
Stamina: 2/5
Attack: 4/5
Defense: 3/5
Accuracy: 3/5
Evasion: 1/5
Team-Up Bonuses:
You Have My Sword
Arcane Arts
Smasher
Redheads
Passives:
Dark King

​Counts as both a Tactician and Bruiser and gains the strengths/weaknesses of both.

Triforce of Power

​Attack stat cannot be reduced
Chance to be revived to 5% health after being KO'ed.

Twilii Magic

​Chance to take reduced damage from magic attacks.

Superior Swordsman

​Chance to precounter Slashing attacks with a weak sword strike.
Chance to counter Slashing attacks with a weak sword strike.
Moves:
Executioner's Sword (Slashing Melee) - Single target, one hit.

​Fatal Blow
Brutal Strike

Dark Magicks (Ranged Magic Shadow Energy) - Single target, 3 hits.

​Exploit Attrition
High Crits
Depower

Twilit Possession (Psychic Magic Debuff) - Single target debuff

Full Round Action
​Possessed
Catastrophic

Ganon (Melee) - All enemies, 1 hit (2 round cooldown)

​Catastrophic
Deadly Crits
Intimidated
Bestial Rage

Applies Strengthened and Dizzy to Ganondorf
Gives Executioner's Sword Pressure Points
Gives Dark Magicks Chaos Shot
Ad blocker interference detected!
Wikia is a free-to-use site that makes money from advertising. We have a modified experience for viewers using ad blockers

Wikia is not accessible if you've made further modifications. Remove the custom ad blocker rule(s) and the page will load as expected.