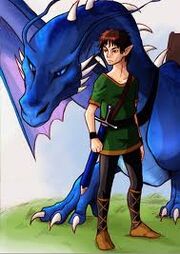 "Saphira and I are more than willing to help, Agent. Just show me where."
Eragon
Class: Tactician
Health: 3/5
Stamina: 3/5
Attack: 4/5
Defense: 4/5
Accuracy: 3/5
Evasion: 3/5
Team-Up Bonuses:
You Have My Sword
Arcane Arts
Hot Stuff
Mind Games
Passives:
Mental Resilience
Magic Warding
Master of the Blade

​Counters Slashing attacks
All attacks exploit Tenderized
Moves:
Cleaving Blow (Magic Slashing Melee) - Single target, 1 hit.

​Tenderized
Adamantium

Ancient Language

​Multi-Function

Brisingr! (Fire Magic Ranged) - Single target, 1 hit.

​Burning

Jierda! (Magic) - Single target, 1 hit.

​Disabled
Reduced Potential

Waise Heill! (Buff Heal Magic) - One ally.

​Heals Ally
Removes Debuffs

Burning Blade (Magic Slashing Fire Melee) - Single target, 1 hit.

​Combustible
Adamantium
Shield Breaker

'Mindbreaker (Psychic)' - Single target, 1 hit.

Stun
Disadvantage
Disoriented
Ad blocker interference detected!
Wikia is a free-to-use site that makes money from advertising. We have a modified experience for viewers using ad blockers

Wikia is not accessible if you've made further modifications. Remove the custom ad blocker rule(s) and the page will load as expected.