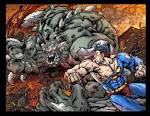 Doomsday
Class: Bruiser
Health: 5/5
Stamina: 4/5
Attack: 3/5
Defense: 4/5
Accuracy: 3/5
Evasion: 2/5
Passives:
Regenerative Healing Factor

​Reduces duration for damage over time effects
Restores health every turn
Health restored is reduced for every stack of Resistance on Doomsday

Kryptonian Killer

​Attacks by Doomsday against Kryptonians deal 25% more damage.

Adaptive Resistances

​Gains resistances based on the types of attacks recieved

E.g., if hit by an Unarmed Melee attack, gains both Unarmed Resistance and Melee Resistance

Bestial Rage

​Resistant to psychic attacks
Immune to psychic debuffs

Bone Protrusions

​Causes Bleeding on melee attackers
Moves:
Genetic Engineering (Unarmed Melee) - Single target, 2 hits.

​Wide-Open
Exposed
Pain

Ultimate Life-Form (Unarmed Melee) - Single target, 1 hit.

​Breakthrough
Pummeled
Weakened

Hero Slayer (Ground) (2 Round Cooldown; Starts Cooled Down) - All enemies, 2 hits.

​Intimidated
Broken Will
Opportunist
Slowed

Doomsday (Unarmed Melee) - Single target, 1 hit.

​Fatal Blow
Brutal Strike
Paragon Exploiter
Exploit Opportunity
Ad blocker interference detected!
Wikia is a free-to-use site that makes money from advertising. We have a modified experience for viewers using ad blockers

Wikia is not accessible if you've made further modifications. Remove the custom ad blocker rule(s) and the page will load as expected.