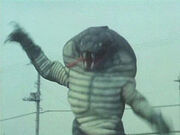 Bio
Dokuja Monster is the fifth BEM Kaiju in Space Sheriff Gavan. Its powers include toxic fangs, an extendable electric tentacle for the right hand, invisibility, summoning cobras, speed, and explosive mouth energy bolts.
Class: Bruiser
Gains Enraged when attacking or attacked by Scrappers. Increases all stats up to two times.
Passives
Relentless
Blazing Speed
Attacks
Toxic Fang
Slashing Melee
One Enemy
(enemy) Bleeding - takes damage each turn and when attacking.
(enemy) Poisoned - takes damage each turn. Attack reduced.
Tentacle
Ranged Electric
One Enemy
(enemy) Constricted - next attack against this target is a guaranteed crit
Invisibility
Buff
Self
(self) Cloaked - 70% chance to avoid single-target attacks
Snake Pit
Summon Slashing Melee
One Enemy
(special) Summon Attack - cannot be countered
(enemy) Flanked - single-target attacks against this target provide a follow-up attack
Toss
Ranged
One Enemy
(enemy) Incapacitation - chance to lose a turn
Laser Beam
Ranged Energy Explosion
One Enemy
(enemy) Burning - takes damage each turn. Defense reduced.
Ad blocker interference detected!
Wikia is a free-to-use site that makes money from advertising. We have a modified experience for viewers using ad blockers

Wikia is not accessible if you've made further modifications. Remove the custom ad blocker rule(s) and the page will load as expected.