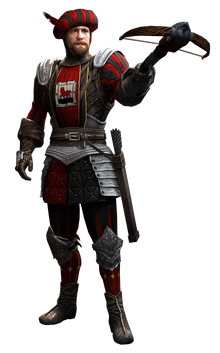 Bio
A generic medieval grunt wielding a crossbow.
Class
Can either be a Blaster, Tactician, or Infiltrator.
Passive
Master Marksman - attacks never miss.
Attacks
Crossbow Bolt
Ranged
One Enemy
(enemy) Lock-On - takes extra damage from ranged attacks
(enemy) Pressure Points - causes either Weakened, Dizzy, Slowed, or Exposed.
Crossbow Club
Melee
One Enemy
(self) Agile - evasion increased by 25%
(enemy) Wide-Open - takes extra damage from melee attacks
Ad blocker interference detected!
Wikia is a free-to-use site that makes money from advertising. We have a modified experience for viewers using ad blockers

Wikia is not accessible if you've made further modifications. Remove the custom ad blocker rule(s) and the page will load as expected.