Bio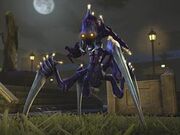 Chryssalids are enemies that are encountered in
XCOM: Enemy Unknown.
Chryssalids are known to be one of the most annoying enemies in
XCOM: Enemy Unknown
. Chryssalids are first encountered during the first terror site mission, where they are said by Dr. Vahlen that they are "having no clear pattern of behaviour among the other alien species." Chryssalids are a real danger in terror sites among with
Floaters
. They might have no ranged weapons, but they are very dangerous indeed. They use their claws to kill XCOM soldiers or civillians. Other dangerous things from the Chryssalids are the fact that they have an abnormally high movement and can jump very high. The main dangerous thing of the Chryssalids are that other than their claws poisons enemies and they are immune to poison, they implant a Chryssalid egg to the Chryssalid's recent victim. Because of this, the egg suddenly makes the killed victim a "Zombie". If ignored, the zombies can later bursted out in a violent reaction, and a baby Chryssalid emerges. And after 3 turns, these babies grows to normal Chryssalids. Chryssalids are also known to ambush Sniper XCOM soldiers alike at the first time they are spotted. In the expansion pack,
Enemy Within
, Chryssalids have another unique trait. They can "see" cloaked soldiers that are hidden with the Mimetic Skin gene mod, but they cannot attack the hidden soldier.
Class

Scrapper
Deals more damage to Infiltrators and does a follow-up attack against Infiltrators and gains Close Quarter Combat when being attacked or attacking Infiltrators.
Vulnernable to Bruisers. Bruisers gains Enraged when being attacked or attacking Scrappers, increasing all stats
Stats
Health:
Stamina:
Attack:
Defense:
Accuracy:
Evasion:
Passives
Immune to poison related effects.
All attacks exploits poisoned targets.
Cannot be stunned or incapacitated.
Cannot be mind controlled and takes reduced damage from psychic attacks.
Killing an enemy doesn't removes the killed enemy from the battle, but still counts as "dead".
After 3 turns the killed enemy remains at the battle, a new Chryssalid will join the battle.
However, if there are already 3 allies in the team, all enemies are inflicted with Intimidated.
Actions
Claw Slash
1 hit.
Attacks one enemy.
Melee unarmed slashing attack.
Inflicts:

Poisoned: Takes damage every turn and reduces attack.
Leaping Ambush
2 hit.
Attacks one enemy.
Melee attack.
Inflicts:

Combo Setup: Takes more damage from unarmed melee attacks.

Special properties:

Stealthy: Doesn't trigger any counter or protect effects.
Claw Combo
3 hits.
Attacks one enemy.
Melee attack.
Inflicts:

Poisoned: Takes damage every turn and reduces damage.
Cower: 30% chance to lose a turn next turn.
Notes
In XCOM: Enemy Unknown, Chryssalid's only attack is a claw attack. Here, it is expanded to 2 more.
The Implant passive of the Chryssalid, in Enemy Unknown spawns a zombie first before a Chryssalid.
Ad blocker interference detected!
Wikia is a free-to-use site that makes money from advertising. We have a modified experience for viewers using ad blockers

Wikia is not accessible if you've made further modifications. Remove the custom ad blocker rule(s) and the page will load as expected.