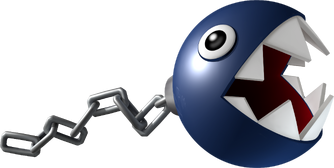 Bio
Chain Chomps (occasionally called Chain-Chomps, as in the Paper Mario series) are common enemies in the Mario series. They first appeared in Super Mario Bros. 3. Chain Chomps bear a resemblance to a ball and chain and are typified by their large, tooth-filled maws and incessant biting. Shigeru Miyamoto's inspiration for the Chain Chomps was from a childhood experience: a dog once ran up to him and tried to bite him, but the dog's chain held it back. As a result, Chain Chomps also possess canine qualities, such as barking and are commonly used as guard dogs throughout the Mario series. Chain Chomps, however, were originally created as an enemy for The Legend of Zelda series, but ended up being used for the Mario series first. Many Chomps have been part of the Koopa Troop, though a couple of them have been shown to be independent.
Class: Bruiser
Becomes Enraged when attacking or attacked by Scrappers, increasing all stats up to two times.
Passive
Organic Steel - immune to bleeding, burning, and chilled. Very high crit resistance.
Attacks
Bite
Slashing Melee
3 hits
One Enemy
(enemy) Bleeding - takes damage each turn and when attacking.
(enemy) Ravaged - takes extra damage from bleeding
(special) Hemorrhaging attack - causes all applications of bleeding to trigger.
Jump
Melee
One Enemy
(enemy) Opportunist - causes either Impaired, Cornered, Staggered, Neutralized, Winded, Off-Balance, or Exhausted.
Charge
Melee
One Enemy
(special) Deadly Crits - deals extra damage on critical hits
Ad blocker interference detected!
Wikia is a free-to-use site that makes money from advertising. We have a modified experience for viewers using ad blockers

Wikia is not accessible if you've made further modifications. Remove the custom ad blocker rule(s) and the page will load as expected.