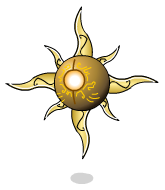 Bio
An Idol sculpted in the guise of SOLAK, God of Suns, by Solakian Priests, which has been possessed by a destructive spirit from the elemental plane of Light.
Class: Blaster
Gains Focused Attacks when attacking or attacked by Bruisers. Attacks are guaranteed to crit and ignore defense.
Passives
Flying
Relentless
Mechanical Body
Mindless
Attacks
Tackle
Melee
One Enemy
Solar Flare
Ranged Energy
All Enemies
(special) Catastrophic -always hits and cannot be protected against
(enemy) Radiation Exposure - takes damage each turn. Defense reduced.
(enemy) Blinded - next single-target attack has a chance to miss
Magic Shield
Buff
Self
(self) Magic Shield - absorbs damage. Resistant to magic attacks.
Ad blocker interference detected!
Wikia is a free-to-use site that makes money from advertising. We have a modified experience for viewers using ad blockers

Wikia is not accessible if you've made further modifications. Remove the custom ad blocker rule(s) and the page will load as expected.